pH Information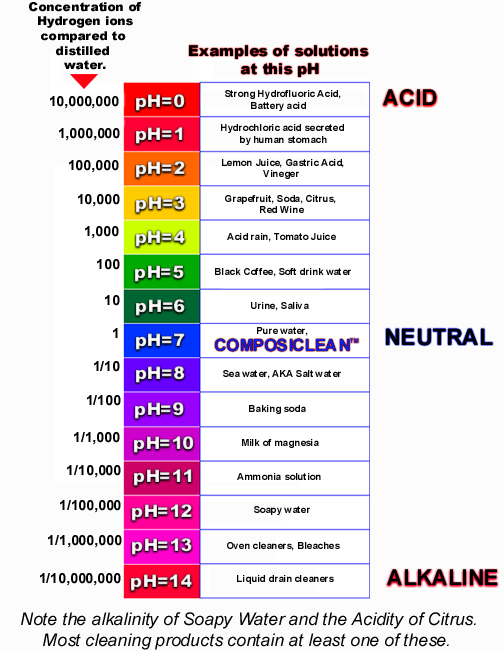 ​pH
IS IMPORTANT IN CLEANING PRODUCTS:
pH is sometimes referred to as the power of the hydrogen ion in an aqueous solution, and refers to the degree of acidity or alkalinity of a substance in water or liquid. The scale of 1-14, with 7 being neutral, is logarithmic. Logarithmic means each full unit is different (higher or lower) by a factor of 10 from the one adjacent to it. For example, a pH of 8 is ten times more alkaline than a pH of 7. So it follows that a pH of 10 is 1000 times more alkaline than a pH of 7 (10 x 10 x 10 = 1000). The same goes for acidity when the pH goes below 7 towards 1.
NEVER IGNORE
pH VALUES:
It is important to have a basic understanding of pH when choosing a cleaning product for an aircraft. Ignoring the pH of a solution can be expensive and dangerous. Surfaces as well as structure can be damaged by an inappropriate pH value. The pH of a cleaning product does not signify cleaning performance or strength. It simply indicates the concentration of hydrogen or hydroxide ions. A common misconception about cleaning products suggests that a higher pH means superior cleaning, it does not. Many off the shelf brands of cleaners have a pH of 11 – 12 or even higher. The cleaning product you grabbed off the shelf could have a pH value that is not proper for your use. Some of the corrosion, tarnishing and crazing you see could be from the cleaning products you chose in the past. All
Composiclean™
products that have "neutral pH" on the label have been tested to be safe on all aircraft structures.
THERE ARE 3 WAYS TO DETERMINE pH
1. Litmus Paper - If acidic, the paper will turn red. If alkaline, the paper turns blue.
2. pH Paper - When immersed, the paper turns various colors depending on the strength of the acid or alkali. This method is the crudest of the three in order to determine pH.
3. Electronic pH Meters - Provide an accurate quantitative reading.
THE SUBJECT OF CORROSION & pH
Finally, there is one other factor relative to pH that needs to be explained, and has to do with the corrosiveness of a compound. Both acids and alkali's have the capability of being corrosive, although one would have a pH range of 0 (acid), while the other would range in the area of 14 (alkali). Sodium hydroxide, a very strong and corrosive alkali would have the same damaging effect on human tissue as sulfuric acid. If a 25% concentration of sulfuric acid and phosphoric acid were measured for pH, both would range in the area of 0. However, if sulfuric acid were allowed to contact human tissue, severe burns would result, while the average person would not detect even a burning sensation from contact with the phosphoric acid. Why? The answer lies in the corrosive nature of some acids over others.
Through experimentation and testing over the years by chemists, certain characteristics have been observed in the reactions of acids and alkalis, and were assigned classifications accordingly. One of the classifications is corrosiveness. Therefore to classify a product or compound as being corrosive means that it would have the potential to eat away at something, in some cases very rapidly, and it would have the capability of being harmful to objects such as structural components of an aircraft and human tissue. It is important to understand that some cleaning products are corrosive by their very nature and should be handled according to the directions on the container. All corrosive products are labeled as such and must follow strict government guidelines. Then, keeping in subject, we as consumers must read & understand the labels on cleaning products and there potential effects on the item we wish to use them on, then choose the right one.
Composiclean™ MPC (Multi Purpose Cleaner) is an alkaline cleaner with a pH of 12.8, While great for wheels, engines, exhaust stains & other tough cleaning job's, it should not be used on areas susceptible to the adverse affects of high alkalinity
. As you learn more about the proper use of cleaning products, it will become clear that pH is very important.
Choose a cleaning product with a safe & proper pH level.
Choose Composiclean
THE FOAM IN YOUR SANDWICH & pH
Some foam-core products used in the "sandwich" structure of popular composite aircraft, though resistant to some lower than neutral pH products such as varnishes, lacquers, adhesives, glues, and degreasing & cleaning agents, will soften, deteriorate or even dissolve with exposure to liquids containing just low levels of alkalinity, levels above pH 8.5. Many soap products and cleaning detergents have pH levels much higher than 8.5, (remember the logarithmic scale). We have seen this during the extensive test phase of our product development. On occasion, one will notice deformity on a surface of a composite structure. More times than not this is the result of the areas exposure to an aqueous solution (water or cleaning products) containing an improper or high level of alkalinity. Often this unsightly and sometimes structurally damaging occurrence will be found at or close to the edge of a surface. The reason we found is that the edge bond is not 100% sealed. In conversations with manufacturers of foam, we have been told that the foam core MUST be 100% encapsulated in proper resin or at least proper paint. This is an issue to be addressed, as when any saturation of liquid with high alkalinity occurs, the previously mentioned deformities will show. Inspecting all surfaces of your composite aircraft for areas that appear to be not completely sealed is very important. When found, they should be brought to the attention of a properly certified composite technician for repair. Though we at Composiclean™ have many different products, we became involved in this business primarily to address this issue. Our neutral pH cleaning solutions are the right choice. When washing a composite aircraft, one should also consider the quality of the water to be used. There are occasionally levels of pH in water that are undesirable to be in contact with these foams. Though Composiclean™ Neutral products are considered neutral, the water you use may be on the higher side of the pH scale. Please test the water to be used.
THE ALUMINUM EFFECT:
For almost a century now, Aluminum products have been used in aircraft structure as well as skin, engine components, fuel lines and propellers. They most commonly range from thin sheets stock of alclad of around .015 to .025, which are used in sheet form or press formed into bulkheads, to milled, drilled, bent or welded billets or castings of just about any size. We have the 6061-T's, 2024-T's, 7075-t's and many others including the more recently developed alloys, such as 5086, 5454, 5456, 6070 which have strength advantages over those previously mentioned. The "T's" referred to above are in regard to heat-treating, 0 being soft and malleable to 6 which is hard and dense.
Aluminum is susceptible to
corrosion like
oxidation from prolonged exposure to high or low pH levels, and
galvanic corrosion
when dissimilar metals are in electrical contact. We've all seen it, the white powdery substance around the heads of bolts, nuts and steel washers attached to aluminum. The use of Alclad, Zinc Chromate, Epoxy's and polyurethane's have long been used to prevent or postpone these types of corrosion. Alclad aluminum is claimed to be effective against corrosion when exposed to pH ranges from 4 to 8.5. These coatings and plantings are effective fixed methods when properly applied and maintained. However, when alclad, Zinced or painted aluminum is drilled for the insertion of a fastener such as an AN bolt, there is an opportunity for galvanic corrosion to develop. This corrosive process is accelerated when the area is exposed to wetness, especially when the wetness is higher than pH 8.5 or more alkaline.
With that, we get to the effects of cleaning products with improper pH.The acidity or alkalinity of cleaning products can affect the corrosion behavior of aluminum alloys especially in areas where dissimilar metals are present or oxide coatings are not present. Corrosion will be accelerated, sometimes even instant when cleaning products with significantly lower than neutral or significantly higher than neutral pH levels are present. When cleaning aluminum airplanes, we must take appropriate measures to avoid soaps that have wide variations of pH from neutral. Click on the "
ph Scale
" tab to see pH levels of some commonly found solutions. Remember that COMPOSICLEAN™ Bucket-Wash™ is neutral.
Oxidation or pitting type corrosion is commonly produced by halide ions, commonly found in chlorine. The water used to wash and rinse aluminum aircraft should be checked for pH levels. "City Water" usually measures out to approximately neutral or pH 7, or a slight bit to either side. Be cautious of heavily chlorinated tap "city" water that can have pH levels onto the 12-13 range and can accelerate oxidation, pitting and eventually can cause total deterioration of aluminum. Please test the water you intent to use to wash your plane.
Please tell your friends about our great products.