Company contact info is at the bottom of the page

Here is what some of our customers are saying
​

Composiclean has definitely shown the detailing world that a little R&D can provide customers with stunning results, as evidenced in this vehicle. This is the 1969 Custom "Camaro Concept Car" that Chevrolet will be using for their new production car in 2010 and the Convertible in 2011. After buffing and polishing with Composiclean products, the end result is clearly evident in the photo. There is no finer product available anywhere!
Stephen Ruby (CEO)
Fox Valley Detailing
& Midwest Aviation Consulting Oshkosh, WI
---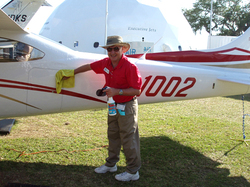 I sell Cessna Aircraft. When I go to a show or when I'm out on a demo tour I need to have the airplane look its best and need it done fast and as easy as possible. Composiclean Super Spray –Wax is the best, the fastest and the easiest I've found & I've tried them all. I keep it at the Flight Center by the case.

Dave B.
Executive Aircraft Sales, Inc
Ft. Lauderdale, FL
---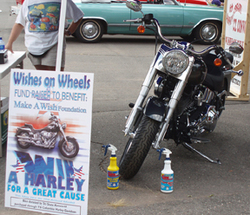 We use Composiclean Super Spray-Wax to detail the Harley at each appearance we made to promote the Make-A-Wish foundation. The bike never looked better, not even when we took it off the show-room floor. Awesome product, I got some for myself ! K.H.
---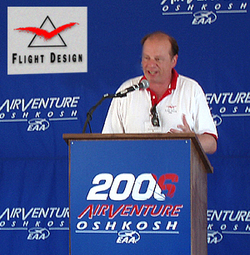 We at Flight Design recommend Composiclean for cleaning and detailing, All of our customers get a Composiclean "Proper Care Kit" with their new airplanes. Our experience and the experience of our customer have just been great.

Matthias Betsch
CEO- Flight Design GmbH
---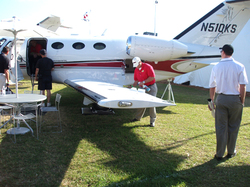 Team Cessna keeping our Mustang shined up with Composiclean Super Spray-Wax at Sun & Fun 07 display booth. We use Composiclean Leather Conditioner too. Really great stuff.

​Cessn Show Team 07
---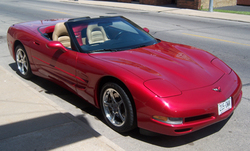 Another testimony that Composiclean Products do the best job.......Here is my
friends 2002 Corvette that was done last summer. I took me 4 hours of
complete detailing in & out to accomplish this stunning result.
It sold the
next day.
Stephen Ruby
Fox Valley Detailing
Oshkosh, WI 54902
---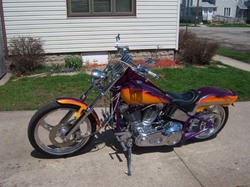 This is my friends 2007 Harley Soft-tail Custom, complete with $4700 dollars worth of paint work. We used Composiclean products from start to finish. All the final "detailing" applications were conducted using Composiclean Super Spray Wax and Composiclean Tire Derssing. There is no finer product available anywhere!

Stephen Ruby (CEO)
Fox Valley Detailing
Oshkosh WI

---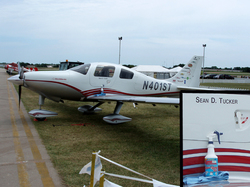 Sean D. Tucker of Power Aerobatics had his crew use Composiclean™ Super Spray-Wax™ on his show plane as
well as his Columbia 400SL during Oshlosh AirVenture . This shot was taken out on the flight line.
---
I bought a new 206 turbo last year, it's a beautiful airplane and I like to keep it looking new. I bought a bunch of Composiclean supplies a few months ago while on an online shopping spree. After using them for a while I thought I'd write a thank you note to the company for providing such great products. Everything I have works as well as described or better & the plane stays cleaner longer with their Spray-Wax. I recommend it to people all the time.

So, here it is… Thank you Composiclean !!!
Robert M., Turbo 206
Director of Sales at AirCam
---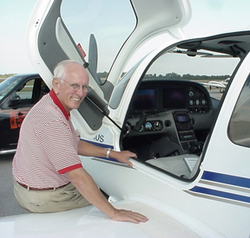 I just got back from the airport, and while I only had about 15 minutes to try your products, I'm really impressed. It's so easy, it feels like you must be doing it wrong. I only worked on the bugs on one wing and the spinner, which is polished aluminum. Perfect. That is the best the spinner has ever looked. Tomorrow morning I intend to do the whole airplane, except for the belly. I also did one side window on the outside, I didn't have time for the inside. It is amazing how quickly the wax buffs to a hard polished surface and GREAT shine. Thanks, Bud - SR22
---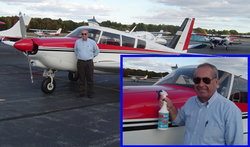 I am over 60 years old and have never formally endorsed a product till now. I like keeping my things looking good and my beloved Comanche is no exception. After using Composiclean Haze Glaze and Super Spray-Wax I flew to an airport to pickup some people that I have not seen for 6 to 8 months and the young lady said did you just get your plane painted it looks great and the same thing happened when I flew to the radio shop to fetch a friend that left is plane for radio work. By the way, my planes paint is almost 10 years old and it lives out side 365 days a year in New England, hot and cold snow and rain. Composiclean Haze Glaze and Super Spray-Wax are GREAT ! Thanks, Bill - Comanche
---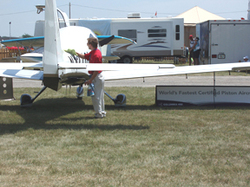 Mike Ganor, Exhibition Sales Manager for Columbia Aircraft using Composiclean™ Super Spray-Wax™ on a Columbia 400 at their exhibit at Oshkosh.
---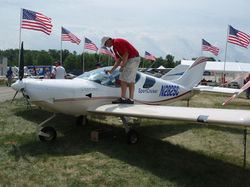 Bob McKee of LSA Flyers using Composiclean™ Super Spray-Wax™ on his SportCruiser at AirVenture 06
With the large canopy on the CZAW SportCruiser it is important to keep it clean. It is also very important to use a product that will not cause the canopy to scratch. Composiclean Super Spray-Wax and their Micro-Fiber cloth, you can safely clean the canopy to a streak free shine in seconds . I have seen other supposed cleaners for plastic and vinyl, but Composiclean easily passed them in ease of use and clarity.
Bob McKee
LSA Flyers, Inc.
Glendale, AZ
---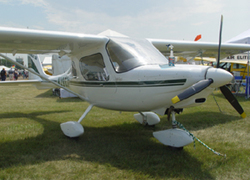 "With so many products in today's marketplace advertised as miraculous, it is extremely satisfying to state that COMPOSICLEAN Super Spray-Wax is as great as promised, and not only is the system effective on aircraft, it has many other cleaning uses that are endless". We like it so much we became a dealer.
Ashley Lyn Whaley, Executive Director; Air Elite Aviation, Inc.
---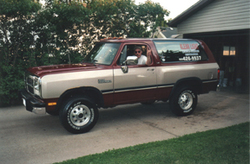 Hi Composiclean, You have developed a product that has no equal and we are delighted to be a part of Composiclean as a dealer of all of your wonderful line of detailing supplies. I even use it on on my old Dodge, never looked better!
Stephen, WI
---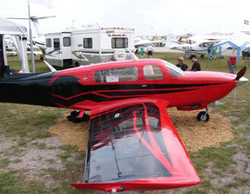 Dear Composiclean,
Your product "Super Spray-Wax" that I utilized at AirVenture 2006 could have not come at a better time. With 6 brand new Mooney aircraft to detail both in OSH (Oshkosh) and at ATW (Appleton) this amazing spray on and wipe off polish achieved amazing results in short order, not only that, it enhanced the striking colors of these airplanes and received many favorable comments by customers and manufacturers.
Stephen Ruby, Klear Light Aircraft Detailing Services
---
Company contact info
Phone; Monday - Friday 8 am - 5 pm eastern 860-593-three six six two
Email info@composiclean.com